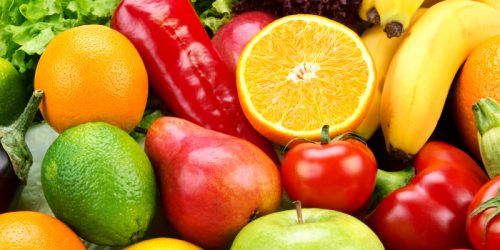 Nutrition plays an important role in all of your lives. If you use a wheelchair you may have additional dietary needs to keep you on top of your game. This National Fruit and Vegetable month, Lift & Transfer Specialists is excited to share some simple ways to incorporate more healthy options into your daily diet.
The saying always goes, "Breakfast is the most important meal of the day." Studies actually show that a well-rounded breakfast can kick start your metabolism for the day, and help your body lose weight. By incorporating delicious fruits and vegetables into your morning meal you can hit two birds with one stone. Try a delicious berry smoothie, or hearty omelet complete with succulent peppers, onions, and tomatoes.
Lunch is the perfect opportunity to get your recommended daily fiber intake. Eating fiber doesn't have to be boring and it definitely doesn't mean you need to give up any of your favorites. In the mood for Mexican? Their signature burritos are all full of hearty fiber. Pinto beans, which make up the bulk of the dish, have about 15 grams of fiber in each cup!
Cooking after work can be tedious, and letting the microwave do all the work while you rest is definitely easier. However, eating a microwavable dinner will leave you less full and craving late night snacks. Instead, try grilling some chicken breasts with asparagus and green peas. For dessert, nothing is as sweet as a scrumptious berry compote with a dollop of light Cool Whip for flavor.
With these three simple steps you can move towards a healthier lifestyle. At Lift & Transfer Specialists we look forward to hearing your incredible success stories – be sure to share them us on our Facebook page!