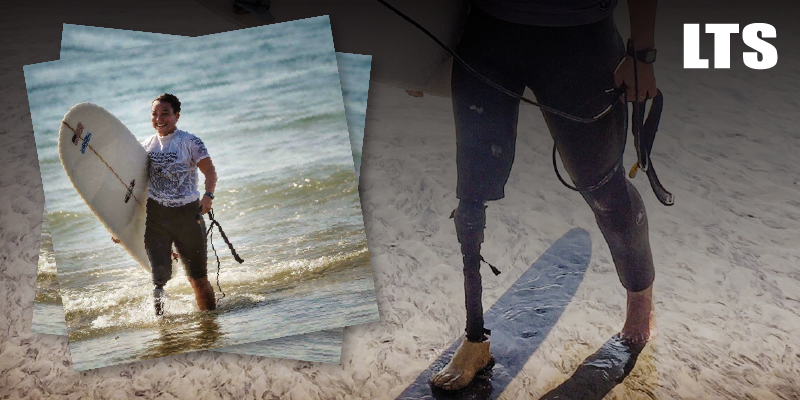 Sometimes, life comes crashing down in a tidal wave. When that happened to Danielle Burt, she mounted a surf board and rode it out. What makes her story unique is that she's done it all as an above-the-knee amputee.
Danielle's story starts back in New Jersey, when she received a pink skateboard as a little girl. From then on, she was hooked on anything that let the wind blow through her hair or challenged her athletically. Swimming, bodyboarding and motorcycling all became a part of Danielle's life.
However, this love also lead to a life-changing event. In 2004, she had a motorcycle accident that sent her 45 feet down the side of a mountain in San Diego. Doctors placed her in a medically-induced coma while they worked to save her. During that time, her leg became gangrenous, and doctors had to amputate it.
Upon waking, Danielle wasn't immediately aware that her leg was gone, since she couldn't sit up. Once she found out, she thought her life was over. How was she going to continue her athletic pursuits if she was an amputee?
Luckily, someone reached out to Danielle to show her there was a way. A group of people from Challenged Athletes Foundation approached her at the outpatient rehabilitation center to talk with her about returning to her active life.
From there, she discovered Adaptive Action Sports, joining them on their skateboarding tour of the U.S.—the first female above-the-knee amputee to do so. Eventually, she decided she would try something she was never active in before her accident—surfing. It wasn't long before she was winning competitions.
At Lift and Transfer Specialists, we love inspiring stories such as Danielle's. Check out next week's blog to read part 2 of Danielle's story and how she became a world-class surfer!