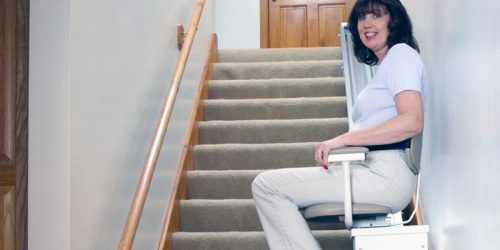 Investing in a stairlift can be a major life decision, and you want to make sure you are choosing the right one.  At Lift & Transfer Specialists, we are helping families with this very decision every day.  We would love to help you as well, but if you're unable to reach out to us yet, these tips will get you headed in the right direction:
First, determine what type of staircase you have. Stairlifts are usually made for three different kinds of staircases:
Straight Stairs
Buying a stairlift for straight stairs is usually the cheapest and easiest option since it requires almost no remodeling of the house – they are installed on the stairs rather than the wall, so the fitting only takes a few hours.
Curved Stairs
Curved stairlifts are much more expensive because installing them is more difficult and they are made to go around bends, corners and changes in direction.
Outdoor Stairs
The installation process for outdoor stairlifts is the same as for the indoor ones, and the only difference is that outdoor stairlifts are waterproof and are usually sturdier.
Now that you have narrowed down your options based on your stairs, decide what you need a stairlift for? If you weigh over 350 pounds, consider a heavy-duty lift with a larger lifting capacity and a wider seat. If you have difficulty bending your knees, maybe the standing lift is for you. To use the standing stairlift you need to be able to stand the minute or so it takes for the lift to climb the stairs. There also needs to be enough headroom for you to stand comfortably, but it does fit on narrower staircases, unlike the sitting stairlift.
If you only need a stairlift for a limited amount of time or are planning to move to a single story home soon, consider renting one. Again, we hope you give Lift & Transfer Specialists a call at (877) 542-5438 for assistance in choosing the right stairlift.