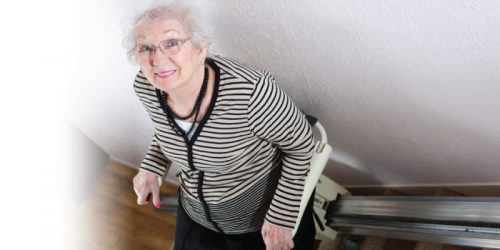 For many senior citizens, the decision to install a stairlift comes after a long, hard look at where they want to live as they age. As such, it's not a purchase to make lightly. Here are some questions you should ask before you buy a stairlift, courtesy of Lift and Transfer Specialists:
Is There Enough Room on My Staircase for a Stairlift?
More than likely, the answer is yes. There are many adaptable fittings that can make installing a stairlift a reality, even for narrow staircases. Our experts can evaluate your home ahead of time to make sure the stairlift will fit.
What Kind of Stairlift Should I Get?
It all depends on what your needs are. Lift and Transfer Specialists sells stairlifts for both straight and curved staircases. Typically, you will need a curved stairlift if there is a landing on your staircase—but we can install two straight stairlifts as well. We also have heavy-duty stairlifts for those who weigh 300 pounds or more.
How Much Will the Stairlift Cost?
The analogy we like to use is that installing a stairlift is like installing carpet—the cost all depends on what you get, and how much of it you need!
How Easy is It to Use the Stairlift?
If you have limited manual dexterity due to arthritis or other conditions, look for a stairlift with light-touch controls. Some models come with remote controls, which can be handy if you have more than one person using the stairlift.
What Safety Features Should I Look For?
Look for things such as seats that can swivel for you to get on and off easily, but will lock in place when it's moving. You should also ask if your stairlift comes with sensors on the foot platform that stop the unit when there's an obstruction in its path.
---
Lift and Transfer Specialists are here to help you move independently in your own home. Email or call us at (877) 542-5438 today to schedule an appointment to evaluate your home for stairlift installation!