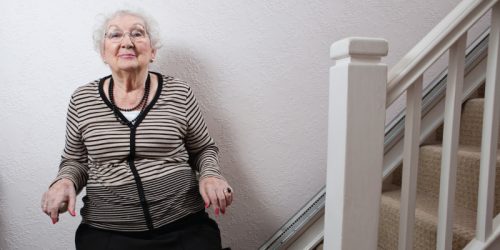 Deciding to install a stairlift in your home naturally brings with it many questions. One question we hear at Lift and Transfer Specialists is whether or not someone should purchase a used stairlift. It's understandable, as it's the cheaper route to go. However, before you purchase second-hand equipment, consider the following:
You Could Put Yourself at Risk for a Fall
Older Americans are hospitalized more for a fall than for anything else. With a used stairlift, you have no idea how much it has been used or abused, and run the risk of it breaking down while you are using it.
No Professional Installation
Many stairlift manufacturers will not honor the warranty if it was not installed by an authorized installer.  When you purchase a new stairlift from Lift and Transfer Specialists, you will have the benefit of professional installation.
May Cost More Money in the Long Run
A used stairlift may save you money initially, but you may also be purchasing something that is out of warranty. If you have to pay for repairs, you may end up spending more than you save. You also have no guarantee that the battery is any good.
You Have No Guarantee That the Used Stairlift Will Fit Your Staircase
At Lift and Transfer Specialists, we make sure the stairlift can be adapted to your home. We can use custom fittings to ensure that it fits on your staircase.
It's Worth the Investment to Buy New.
Remember, a stairlift is more than just a home modification—it's an investment. It could mean the difference between aging in-home or moving to a retirement facility. The investment of staying in the place where you've made a lifetime of memories is well worth it.
---
Let the experts at Lift and Transfer Specialists help. We can answer all your questions about installing a stairlift in your home, and make sure you get the right one for you. Email or call us today at  (877) 542-5438 for a free consultation.