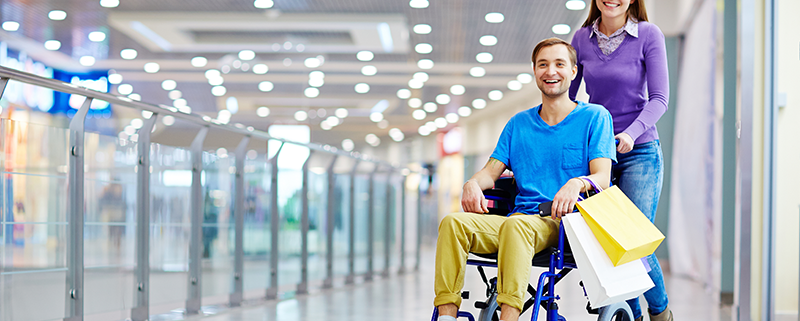 Crowded shopping malls are difficult to navigate during the hectic holiday season, but they can be even more difficult for wheelchair users. Distracted fellow shoppers will sometimes bump into, trip or otherwise jostle you. If you plan on venturing out to your area shopping center, reduce some of your frustration with these helpful tips from Lift and Transfer Specialists:
Avoid Peak Hours
If your schedule allows it, stick to shopping weekday mornings. While the best deals often occur on the weekends, the lines and crowds may not be worth the struggle.
The Main Mall Elevators Are Not Your Only Option
From moms with strollers to mobility device users, mall elevators have a constant flow of traffic throughout the holiday season. Many large department stores have elevators in the back, which can help you avoid the wait times and crowds in the main area.
Plan Your Meals
Choose a time and place to eat before you start shopping. By sticking to a schedule that includes rest and meals, you can conserve your energy throughout the day. Consider packing your own meal as well. This can help you avoid lines at a food vendor, and allows you the flexibility of eating somewhere other than the food court.
Research What You Want to Purchase
Most people have a general idea of what they want to buy, but having your list written down beforehand can help save you time and energy. Go online and compare prices prior to shopping. This way you only have to go in-store for the selected deals you deem worthy.
Keep Pace With Pedestrians
It can be tempting to speed around the mall in your device and finish your shopping as soon as possible, but this can be dangerous! Malls were designed for foot traffic, so the polite thing to do is to keep pace with the rest of the crowd. Even on quiet days, you never know when someone is going to suddenly step in front of your path.
By following these tips from Lift and Transfer Specialists, you can cut back on your holiday shopping stress.