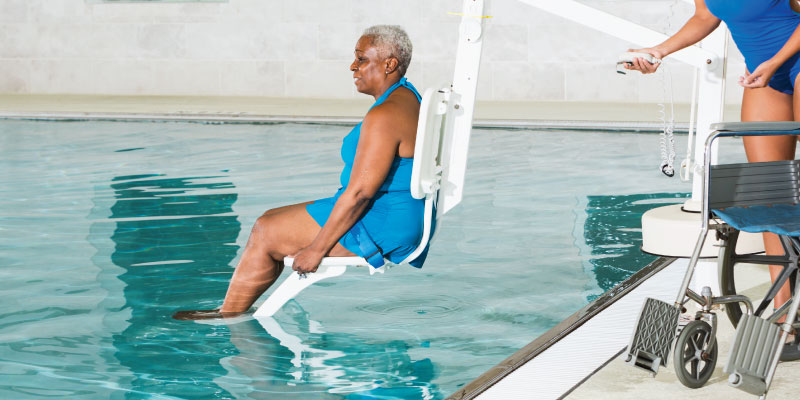 Enjoying a swim at your local pool is more than just a way to relax at the end of the week. Healthcare professionals have long touted the benefits that swimming offers including muscle strength, increases endurance, and alleviation of stress. Due to this, swimming can provide relief for sufferers of fibromyalgia and arthritis. The physical demands of entering a pool, though, can be difficult for those with limited mobility. That's why LTS offers the SureHands® Wheelchair-to-Water™ pool lift. Find out more about pool lifts and how they can help benefit you and your loved ones.
How Does a Pool Lift Work?
For people affected by disability or injury, additional assistance may be required upon entering pools. Lifts feature a mechanized seat that aids in raising and lowering the individual. Since it typically will feature a restraint, it helps ensure that they cannot fall or leave the seat. Pool lifts can be both permanent, such as the type typically installed in therapy pools, or portable for use in a public pool.
The Benefits of a Pool Lift
For people with disabilities each day can bring a new series of potential challenges. Enjoying time at a local pool with friends and family should not have to be one of them. By installing a pool lift, pool owners can ensure that their community provides an all-inclusive set of values that helps benefit everyone involved. No child will ever be left behind due to disability. By utilizing a pool lift, your business can enforce that sense of tolerance. This not only helps convey a positive reputation, but may ultimately draw more attention to your business.
Enjoy the Health Benefits
As we discussed earlier, swimming offers unique and vast health benefits. Due to this, aquatic therapy and exercise is a common form of treatment for people affected by disease or disability. Since water adjusts its shape, it can provide accommodation for your movements using a concept called hydrostatic pressure. This compresses your skin, muscles, and joints. The hydrostatic pressure assists in decreasing swelling caused by injury or those with arthritis.  Additionally, buoyancy from the water assists in supporting weight. By reducing stress on joints, it aids in sprains, strains, and bone fractures. Read our blog here about the benefits of swimming for wheelchair users. Utilizing pool lifts is essential in ensuring that everyone can reap these important health benefits.
Contact our team at LTS today to learn more about the SureHands® Wheelchair-to-Water™.
SaveSave
SaveSave